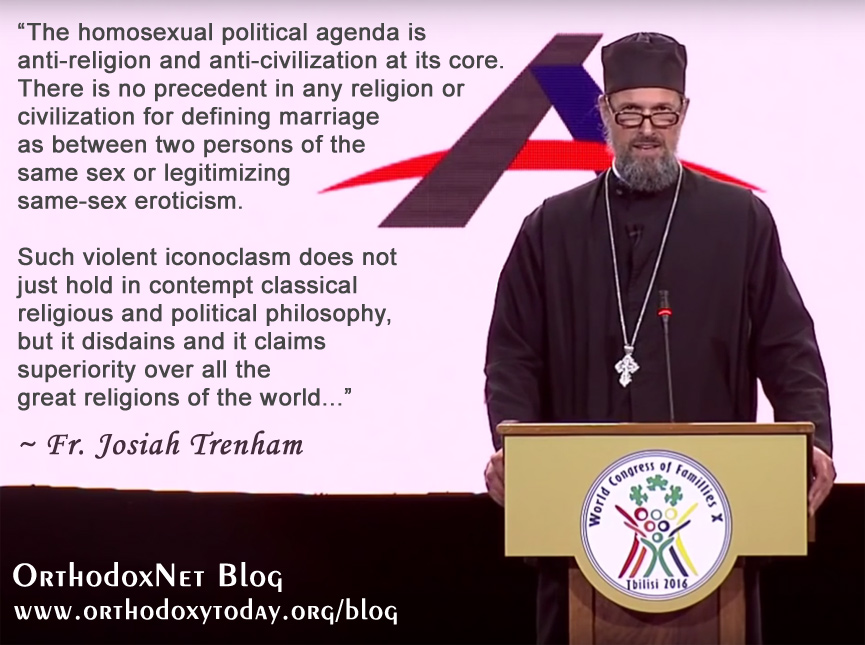 by Fr. Josiah Trenham –
So here is the essence of the conflict, my friends. It is the LGBT versus the JCIB: Judaism, Christianity, Islam, and Buddhism. Gay propaganda throws such classical wisdom to the wind without a thought nor a reference, as though it never existed, as though these religious traditions do not possess the hearts of the great majority of the world's populations. They want civilizations to reorient themselves, overthrowing millennia of wisdom, to embrace the legitimization of sodomy and to crown it with the august dignity of the title marriage. Such a cultural redefinition of marriage is suicidal.
In the name of the Father and of the Son and of the Holy Spirit. Amen.
Your All-Holiness Catholicos and Patriarch of Georgia, Ilia II: Evlogēson, Despota. I ask your blessing. Highly esteemed and deeply respected brothers, Levan and Alan and Larry, such a joy to be here in Georgia, and I'm so deeply grateful to have this invitation to speak.
I was born and raised in Los Angeles, California, in the United States, as my father and his father before him. Los Angeles is the birthplace of the LGBT revolution. Los Angeles is the international center for homosexual propaganda and activism, the leading producer of its literature, the primary source of its media, the location of its religious iteration in the so-called "gay church," and the center of its financial base in Hollywood. [Read more…]