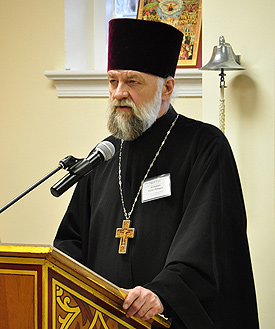 by Maria Stroganova –
Father Victor, please tell us how the Orthodox of America reacted to the decision of the US Supreme Court recognizing the legitimacy of same-sex marriage throughout the country?
– To tell you the truth, we feel like we are in mourning. Of course, no one was surprised that it happened. We all understood that the majority of the Supreme Court would vote in favor of the decision to register same-sex marriages. It all started a long time ago, and over a year ago, the Supreme Court declared the Marriage Protection Act illegal Now this is the result.
Of course, homosexuals claim that they are looking for equality in civil life and they want gay husbands and wives to have the right to visit each other in the hospital, inherit property, to have children, and the rights which are provided to traditional couples. I think, though, they actually are pursuing other goals. Just this morning, I read an interview with a rather famous Russian emigrant, Masha Gessen, who has long been an activist in the LGBT movement. She, of course is an anarchist, but they listen to her opinion in America, and she said: "Our goal is to destroy marriage as an institution, so that there is no longer the concept of marriage." Her words need to be taken very seriously.[Read more…]