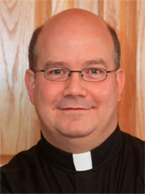 by Fr. Peter-Michael Preble –
Yesterday, President Obama signed a law that will raise the debt ceiling and continue to enslave the American people for another three or four years. It has reduced the national debit some but it seems to me at least that it has not gone far enough. Just so you know, your share of the national debit is about $42,500. It seems to me that the era of Big Government needs to end.
I am what one would call a "classical liberal." Now, before you go crazy because I use the word liberal, please read on. I think you will be surprised.
Classical liberalism developed in the 19th Century in Western Europe and the Americas and is a political philosophy committed to the ideal of limited government, liberty of individuals including freedom of religion, speech, press, assembly and free markets. The sovereignty of individual private property rights is essential to individual freedom. The philosophy believes in an unfettered market with a very minimal role of government. In other words, small federal government, small state government, with decisions being made at the local level where the people have a direct voice in determining what is best for their community. [Read more…]