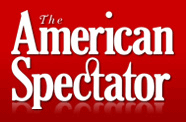 by Emil W. Henry, Jr. –
The Obama presidency has turned the American Social Contract on its head.
In this election cycle, one noticeable phenomenon is how the Republican presidential candidates are emphasizing our country's founding principles — liberty and freedom — more than in any campaign in the modern political era. Each speaks often of the Declaration of Independence. Citing articles of the Constitution is commonplace.
The president's record of evoking such themes stands in stark contrast. In his State of the Union address, for example, our president made only one perfunctory reference to the Constitution and then went on to misquote it. [Read more…]