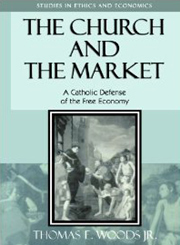 by Andrew M. Greenwell, Esq.
The free market must operate within certain moral, institutional, and legal norms, or else it becomes something other than a free market. The free market is not an autonomous, free-for-all area exempt from moral law or from the hand of positive law. The market must always be protected and kept free, and it must be safeguarded from those who would seek to use it wrongly, whether by fraud, manipulation, abuse of economic power, or monopolization. It operates within the Rule of Law. …
The social doctrine of the Catholic Church undeniably puts great emphasis on the free market as a valuable, indeed "irreplaceable" economic and social institution. (Compendium, No. 349) Drawing largely from John Paul II's encyclical Centesimus annus, the Compendium of the Social Doctrine of the Church is bullish on the free market and supports it as the best general means to assure proper allocation of scarce economic resources, of achieving economic efficiency, and of benefiting the common good.
The free market is an institution of social importance because of its capacity to guarantee effective results in the production of goods and services.  Historically, it has shown itself able to initiate and sustain economic development over long periods.  There are good reasons to hold that, in many circumstances, "the free market is the most efficient instrument for utilizing resources and effectively responding to needs." [Read more…]