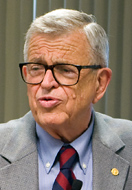 by Chuck Colson –
Inspired by Hans Christian Andersen's "The Emperor's New Clothes," researchers Rob Willer, Ko Kuwabara and Michael Macy devised a set of ingenious experiments that showed how distressingly easy it is to make people go against what they believe to be true.
One of the experiments involved wine-tasting, in which participants evaluate both the wine and one another's wine-tasting skills. The participants were given three samples of wine. In reality, all three samples were from the same bottle. One had even been tainted with vinegar!
Before they delivered their evaluation, they listened to other participants, who were plants, who praised the vinegar-laced wine as the best. Half of the participants went against their own taste buds and joined in praising the vinegary concoction.
Even more interesting is what happened next. Another participant, who was also a plant, told the truth about the wines. But when it came time for the participants to evaluate each other, some of them were permitted to do so confidentially, and the others had to do so publicly.[Read more…]