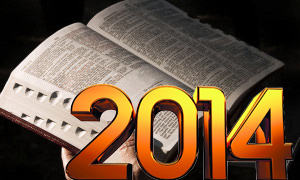 by Allen West –
On his blog, Allen West reflects on Pastor Scott Eynon's sermon titled "How to Make the Most of Your New Year" based on the core scriptures in Jeremiah 29:11 (NIV): "For I know the plans I have for you," declares the Lord, "plans to prosper you and not to harm you, plans to give you hope and a future." Pastor Scott emphasized four points:
1. Accept responsibility for your life, your actions, no blame game. He emphasized that you will never reach God's potential for your life by blaming others. The Bible even addresses that premise in Galatians 5:6, "for each one should carry their own load." I also liked this quote from John Maxwell: "Life is 10 percent what happens to you and 90 percent how you respond to it."
2. Believe you can change and set goals. If you want something to be different, first you have to want it, and second you have to commit to hard work, focus, and discipline in achieving it. Pastor Scott did a comparative analysis between the malaise of King Solomon in Ecclesiastes 1:9 against the inspirational vision of Isaiah 43:18 (NIV): "Forget the former things; do not dwell on the past." I choose the latter and Scott recommended we all do. He talked about choosing spiritual empowerment over popular psychology and pointed to the promise from two of my favorite biblical verses, Joshua 1:9 and Phillipians 4:13.
if everything is a priority, then nothing is a priority
3. Clarify what you really want. Pastor Scott used the base scripture of Job 34:3-4 N (NIV): "For the ear tests words as the tongue tastes food. Let us discern for ourselves what is right let, us learn together what is good." We must ask ourselves what are our values and priorities, and clarify what is important, as Scott articulated, "our values determine our vision," an appropriate statement for our elected leaders. Scott went onto say, "urgent things are seldom important and important things are seldom urgent." I had a leadership maxim when in the Army, "if everything is a priority, then nothing is a priority." The key is a value- based system of prioritization that keeps one focused and grounded.
4. Do it now. This reminded me of the Nike campaign, "Just Do It." Scott spoke about how we procrastinate by using the age-old excuse that we are waiting for the perfect moment. Solomon's wisdom shows clearly in this verse, Ecclesiastes 11:4 (NIV) "Whoever watches the wind will not plant; whoever looks at the clouds will not reap." In other words, if you wait for perfect conditions, you will never get anything done. In the Army we put it this way, "don't let perfect be the enemy of good enough."
What do I value? What do I want to change? What is going to last?
In closing, Pastor Scott used Luke 2:52 to draw our attention to the four aspects of personal development: intellectual, physical, spiritual, and social. Focus on what we want to learn, what will improve our health, what will deepen our relationship with God, and how to improve our interpersonal relationships. Pastor Scott left us with three seminal questions as we embark upon 2014: What do I value? What do I want to change? What is going to last?
Some may just brush this message aside. However, as I sat there in church, God laid it upon my heart to share this message with all of you. I hope, I pray, that perhaps as you prepare for the first full week of 2014, these words can give you courage and inspiration, not just as an individual, but also for our country.
I leave you with these final words, from Paul as he sat in a Roman prison and wrote this letter to the believers in Phillipi, Phillipians 3:13-14, (ESV):
Brothers, I do not consider that I have made it my own. But one thing I do: forgetting what lies behind and straining forward to what lies ahead, I press on toward the goal for the prize of the upward call of God in Christ Jesus.
My goal may be different from yours but nonetheless, I hope you will at least establish goals for yourself — and perhaps for our country.
HT: Allen West