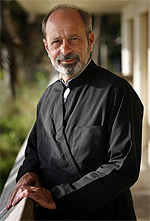 by Fr. Johannes Jacobse –
This past Sunday (May 20, 2012), Ancient Faith Todayinterviewed Dr. Philip Mamalakis and Andrew Williams who specialize in counseling people with same-sex attraction. It was hands down one of the most illuminating and informed presentations I have heard on this complex and often contentious topic in quite a while.
Without going into particulars (you can listen to the interview below), their grounding in Orthodox anthropology enabled them to avoid the common misconception that the object of a person's sexual desire forms what I call a "foundational characteristic of personhood." In practical terms this means that we error when we see a person first and foremost as either "straight" or "gay" believing that "sexual orientation" sums up much of who and what he is.
This way of understanding the human person is taken at face value in the larger culture, but in Orthodox self-understanding it misses the mark completely. We are not to conform our understanding of the human person to whether he prefers men or women because we don't define a person in terms of his sexual desire. [Read more…]