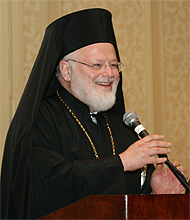 by Terry Mattingly –
It happens all the time: Church leaders stand at podiums and urge members of their flocks to go and share their faith, striving to win new converts. These speeches rarely make news, because they are not unusual. But something very unusual happened earlier this month in Brookline, Mass.
"You will surely agree that our mission … is to lead our brothers and sisters — both inside and outside the church — to our Lord and Savior Jesus Christ," said the featured speaker.
"This is becoming more and more difficult because many hesitate to share their faith, fearing they will be considered quaint and bothersome. This is especially the case in America's colleges and universities where atheism and indifference on matters of faith and religion reign supreme."
This would be ordinary, if not tame language in a gathering held by Campus Crusade for Christ, the Southern Baptist Convention or any Bible Belt megachurch. But this speaker was Metropolitan Methodios, the white-haired leader of the Greek Orthodox Metropolis of Boston, addressing clergy and laity in a conference center dedicated to Greek culture.