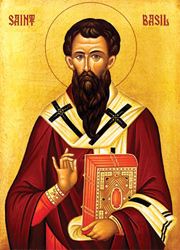 by St. Basil the Great –
Poverty is not always praiseworthy, but only when it represents a free choice according to the Gospel commandment.
Many are poor in terms of possessions and very miserly in spirit, and those people will not be saved through their poverty but damned by their attitude of mind.
Not every poor person therefore is worthy of praise, but only those who of their own choice put the commandment of the Lord before all the treasures of the world.
Those people the Lord says are blessed when he proclaims "blessed are the poor in spirit." He does not say the poor in possessions, but those who have freely chosen poverty in spirit.
What is involuntary cannot merit blessedness. Every virtue, and poverty in spirit more than any other, must be a free choice. [Read more…]