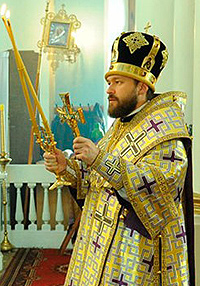 by Metropolitan Hilarion –
But there in one thing that we all should know: life is given for us to exercise in virtue and to get rid of vices, sinful habits and inclinations. If the Lord lost hope for our reformation He would put an end to our earthly life to make us move into a different existence. If the Lord has patience for us here, on earth, it means that there is a hope for our reformation. […]
On April 3, the Fourth Sunday of Lent when the memory of St. John Climacus is celebrated, Metropolitan Hilarion of Volokolamsk, head of the Moscow Patriarchate's department for external church relations, celebrated the Divine Liturgy at the church of Our Lady the Joy to All the Afflicted in Moscow.
After the service, the DECR chairman greeted the archpastors present in the church and delivered a sermon reminding the faithful that the Church commemorated on that day St. John Climacus known to most believers as the author of the book The Ladder of Divine Ascent. He said:
"This book was written in the 7th century for the monks on Mount Sinai, but it is still relevant today. It presents the entire spiritual life of a Christian as a ladder of ascent to God. [Read more…]