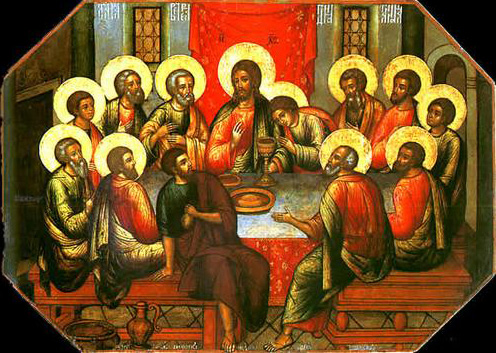 Holy Thursday begins with the celebration of vespers and the Divine Liturgy of St. Basil with a Reserved Eucharist in representation of the earthly presence of Christ realized at the Last Supper.
Two events shape the liturgy of the Great and Holy Thursday: The Last Supper of Christ with His disciples and the betrayal by Judas.
The meaning of both is in love. The Last Supper is the ultimate revelation of God's redeeming love for man, of love as the very essence of salvation. And the betrayal by Judas reveals that sin, death and self-destruction are also due to love, but to deviated and distorted love, love directed at that which does not deserve love.
In the evening, anticipating the Matins of Friday morning, the Holy Passion service of the reading of the Twelve Gospels is conducted. In these readings Christ's last instructions to his disciples are presented, as well as the prophecy of the drama of the Cross, Christ's prayer, and his new commandment. [Read more…]