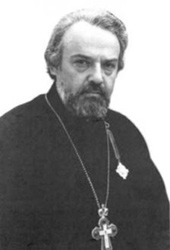 by Fr. Alexander Men –
Every day of Great Lent, with the exception of Saturdays and Sundays, the prayer "O Lord and Master of my life" is read. According to tradition, this prayer was written in Syria in the fourth century by the ascetic Mar Afrem or, as we have grown accustomed to calling him, Ephraim the Syrian. He was a monk, poet, and theologian, one of the most eminent sons of the Syrian Church, who entered world literature as a remarkable writer.
The words of the prayer, which were quite accurately transmitted by Pushkin [1], sound as follows when translated from the Syrian: "O Lord and Master of my life," that is: Ruler of my life, Who gave me life, Who is the center and focal point of my life. "Give me not a spirit of idleness," that is, laziness, which is, according to the old adage, the mother of all vices. Laziness seems like an innocent thing, but it engenders much that is dark and black.
Lenten Prayer of St. Ephrem (St. Ephraim the Syrian)
O Lord and Master of my life, take from me the spirit of sloth, despair, lust of power, and idle talk.

But give rather the spirit of chastity, humility, patience, and love to Thy servant.

Yea, O Lord and King, grant me to see my own transgressions, and not to judge my brother, for blessed art Thou, unto ages of ages. Amen.
"Despondency (Despair)." Christianity is a joyful doctrine; joyful, too, is he who is despondent – for it will leave him. [Read more…]