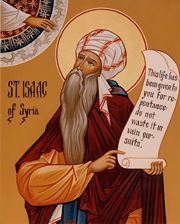 by Fr. Johannes Jacobse –
We live in very uncertain times. I don't think I have ever seen such a widespread uncertainty in my lifetime. My parents saw it since they lived through WWII and the wrenching hardship that placed on them, but many of us only knew the prosperity of the post-war boom that lasted through most of our lifetime.
Some of this trouble is of our own making. We have left off God to a degree, thinking that the security and certainty we had was a kind of birthright instead of recognizing that progress and liberty is hard-won, and must be nurtured and preserved from generation to generation. We tend to forget that "every good and perfect gift comes from above, from the Father of Lights…" as we say at the conclusion of the Divine Liturgy (a verse taken from James 1:17).
When we forget God, morality breaks down, and when morality breaks down then the society we build for ourselves begins to fray and may even unravel. [Read more…]