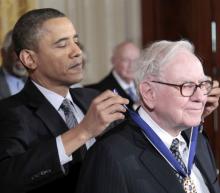 Notice the striking similarities in misrepresenting the facts and seeming to lack basic math skills when making pronouncements on taxes and embracing a liberal/progressive agenda?
by Verum Serum –
As you probably heard, Warren Buffett wrote an op-ed last week begging to be taxed at a higher rate. Rather than give you an excerpt of the article, here's a little video clip in which he makes most of the same points:
Two points to make about this. First, can Warren Buffett do math? The Tax Foundation looked at his proposal [ht: Matt Cover at CNSNews] and found that his plan is a bust:
Suppose Mr. Buffett got his wish and loopholes and deductions were eliminated, making it possible to tax the "super-rich" (those earning $1M – $10M per year) at an effective rate of 50%.
This would theoretically (in reality people would find ways to protect their money) bring in enough to reduce next year's deficit by 8%. This amounts to 1% of our current debt. But Buffett also envisioned a super-tax on those making over $10 million a year. It's an easy sell since few of us are so fortunate, but what would it accomplish? Again, the Tax Foundation crunched the numbers and found that a 100% tax rate on these individuals would reduce the deficit by 12%. [Read more…]