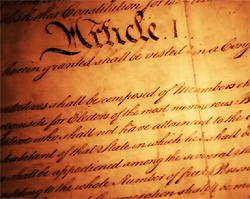 The Obama's Administration's mandate requiring the Catholic Church to conform to government dictates on contraception and abortifacent drugs is more than a war on the Catholic Church argue Jennifer Roback Morse and Eric Metaxas. It's a war on freedom.
The U.S. Department of Health and Human Services (HHS) has mandated that social service providers, including those run by Christian institutions and the Catholic Church, pay for abortion inducing drugs, contraceptives, and sterilizations through their health insurance plans, even if this violates their religious beliefs.
Eric Metaxas and Dr. Jennifer Roback Morse articulate the grave dangers of the Health & Human Services (HHS) Mandate with regard to religious freedom in America.
Eric Metaxas is a public intellectual and author of Bonhoeffer: Pastor, Martyr, Prophet, Spy, the thrilling biography of Dietrich Bonhoeffer. A German theologian in Nazi Germany, Bonhoeffer is remembered for his clandestine efforts to overthrow Hitler and the Nazis in the struggle for human freedom.
Dr. Jennifer Roback Morse is an economist. She is the Founder and President of the Ruth Institute, a non-profit focused on promoting the sanctity of marriage as the critical foundation for families, communities, and society.