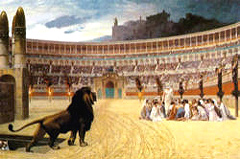 by Deacon Keith Fournier –
On the Memorial Feast of Justin, Martyr, we need to implore the Lord to raise up new apologists, defenders of the faith, who are unafraid to contend in the marketplace of ideas for the heart and soul of the people of our age. We live in a new missionary age. The Third Millennium of the Christian Church calls us, in the midst of a Western Culture which resembles a new Rome, to defend the faith like Justin did. May the Holy Spirit inspire men and women who, like Justin and his companions, possess the heroic courage this mission will require. …
On June 1 in the Roman Catholic Liturgical Calendar we commemorate the Memorial of a great defender of the Christian faith, Justin, Martyr. He was born of pagan parents in Samaria at the beginning of the second century. Like many young men, he spent his early years searching for the meaning of life.