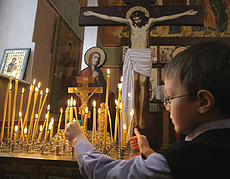 by Fr. Vladimir Berzonsky –
"I was glad when they said unto me, let us go into the house of the Lord" (Psalm 122:1)
We hear so often, "She's just like her mother," or "He's the spitting image of his father." Even the old Russian proverb repeats the cliche: The apple doesn't fall far from the tree. It can mean so much or be inconsequential. Eye color, the stride, the way they deal with traumas, or the faint trace of a smile stamp the child as carrier of the parent's DNA.
The characteristic with eternal significance is—does the child take pleasure in praying in the temple of the Lord? Watch a child and notice how it's instantly apparent. Either he enjoys being in God's house, or he cannot wait until he can defy the parent and stay away. For a time, the believing mother or father will bring the child to church even if it's against his will. "We are family, you are part of our family, and families pray together." Good advice, even when imposed against the kid's will. What to do when the child resists, rebels, and refuses to go to church? [Read more…]