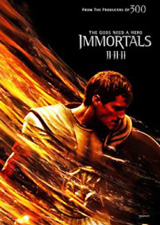 by Mark Tapson –
More and more, Hollywood has alienated audiences with its messages of moral equivalence and its clichéd insistence on casting corporate capitalists, the CIA, and Christian hypocrites as the bad guys in thrillers, action movies, and even horror flicks. It seems that the only genres in which fed-up moviegoers can still find old-fashioned faceoffs of good versus evil are some comic book adaptations like Captain America: The First Avenger and sword-and-sandal epics like Gladiator and 300.
That timeless confrontation of light and darkness is the explicit theme of the recent stylish, spectacular 3-D action adventure Immortals, from the unique dreamscape imagination of Tarsem Singh. Singh is a former director of music videos, best-known for his video of the REM song "Losing My Religion" and the nightmarishly surreal Jennifer Lopez film The Cell .
Immortals is set more than a thousand years before Christ in a mythic Greece overseen by Zeus and the other gods from their perch on Mt. Olympus. On earth below, the power-mad butcher King Hyperion, played by Academy Award nominee Mickey Rourke (The Wrestler) leads his dark army on a rampage across the land in search of the Virgin Oracle (Freida Pinto of Oscar winner Slumdog Millionaire).