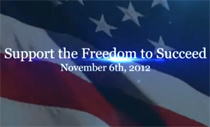 by Thomas Peterffy –
I grew up in a socialist country, and I have seen what that does to people. There is no hope, no freedom, no pride in achievement. The nation became poorer and poorer, and that's what I see happening here. As a young boy I was fantasizing about one day going to America, making a success of myself, the American dream.
America's wealth comes from the efforts of people striving for success. Take away their incentive with bad-mouthing success and you take away the wealth that helps us take care of the needy.