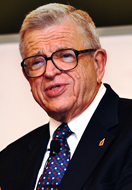 by Chuck Colson –
In his book, Lost in the Cosmos, Walker Percy asked "why is Carl Sagan so lonely?" Percy's question was prompted by the popular scientist Carl Sagan's insistence that ET must be out there somewhere, despite the lack of any evidence to back it up. Percy believed that this insistence said more about Sagan and people like him, than it did about the possibility of extra-terrestrial life.
According to Percy, Sagan and others who reduced everything, including man, to soulless atoms, were desperate for something to transcend this purely-material existence. Not believing in God, they hoped a phone call from ET would do the trick.
Unfortunately for the scientists, thirty years after the publication of Percy's book, we still haven't heard from ET. And it's not for lack of looking: Scarcely a week goes by when we don't read or hear about yet another "earth-like" planet being discovered by astronomers.
Yet ET remains silent. [Read more…]