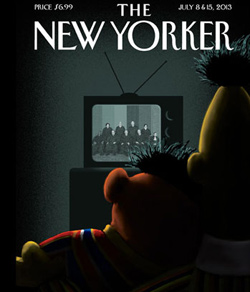 by Dennis Prager –
Premature sexualization of kids is only the latest fallout from left-wing social-justice crusades.
If a Martian were to observe the human condition, he would have to conclude that the Left has an agenda to deprive children of their innocence. The Martian would have no other explanation for the premature sexualizing of children that the Left has engaged in for decades, and which seems to increase almost weekly.
The most recent example is the cover of the current issue of The New Yorker, which depicts the Sesame Street characters Bert and Ernie. They are seated on a couch snuggling, and Bert's head rests on Ernie's shoulder as the two watch television. The TV features a picture of the U.S. Supreme Court.
To their credit, the creators of Sesame Street and of Bert and Ernie have stated that the two characters are not only never depicted as having anything other than platonic interest in each other; they are also never depicted as having any interest in females. As indeed they should be; they were characters for children to enjoy. [Read more…]