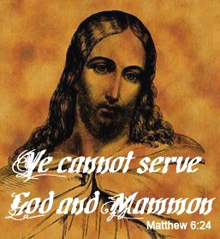 by Fr. G. Peter Irving III –
Jesus tells us: "No servant can serve two masters. He will either hate one and love the other, or be devoted to one and despise the other. You cannot serve God and mammon." …
Whom will you serve? Which will you choose? God or mammon? The things of God or the things of this world? The Lord or the devil? This is the choice that is ever before us in a myriad of ways both large and small. And there is no sitting on the fence. If we hate one, we will love the other.
On Tuesday, November 6, 2012 we faced as a nation a "God or mammon" choice of mammoth proportions. In the most consequential election of our history, the majority of Americans voted for mammon and rejected God. Some did so knowing full well what they were doing (e.g., the Planned Parenthood and the LGBT crowd). Others did so unaware of the dire and far reaching ramifications of their vote. [Read more…]