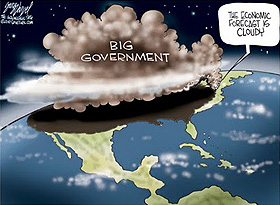 by Vasko Kohlmayer -
Having apparently realized that this country is bankrupt, President Obama recently proposed cutting deficit spending by $1.1 trillion over the next ten years.
Some people were impressed. Some people complained it was too much. After all, $1.1 trillion looks like a big pile of money.
The president's proposal, however, is only symbolic. It is only meant for show. During that ten year period the federal government will spend well over $40 trillion. What Obama is proposing is a drop in the bucket.
But this does not stop him from going in front of the camera and posing as a deficit hawk. The president should be ashamed of himself. He is a quack who is taking this country down the road to fiscal doom.
There is only one group of people we should fear even more than Obama. They are Republicans. Republicans are quacks too, but this is a bit more difficult to perceive. [Read more...]