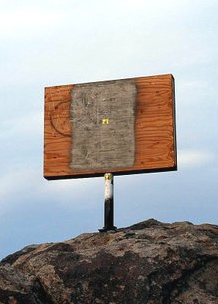 Human Events | by Newt Gingrich | Dec. 23, 2009
The Mojave Desert Cross, as it has become known, was first erected as a simple wooden cross in 1934 by the Death Valley Chapter of the VFW to commemorate the men and women who died fighting for freedom in World War I. For six decades, a wooden cross of one kind or another stood until in the late 1990s, when it was replaced with a more permanent metal one that is now obscured with plywood by court order.
The land upon which the cross has stood for over 75 years only became federal land in 1994 as part of the Mojave National Preserve. Efforts to transfer the small parcel of land where the cross is located to private ownership failed on the grounds that it would violate the Establishment Clause of the First Amendment.
I'd seen photos of the cross both before and after it was covered up by plywood. But what would it be like to actually be there and see it? I knew approximately where it stood, but I was becoming increasingly anxious if I could find it in time. [Read more…]