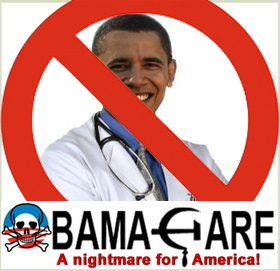 by Eileen F. Toplansky –
It is mindboggling that so many people are totally unaware of ObamaCare, have no interest in discussing it, and are dismissive and rude if someone attempts to have a rational conversation about a law that will drastically change the landscape of this country.
This deliberate ignorance continues to beget denial. Consequently, we find America on the verge of a system that apparently only African and Eastern European acquaintances of mine instantly understand, since they ran away from the very draconian worldview that we will all face in a matter of days if ObamaCare is not stopped dead in its tracks.
Daily, one learns that ObamaCare is a job destroyer. The graph here shows that deep cuts to jobs will continue as "ObamaCare kills off at least two percent of the U.S. full-time workforce." The list of companies cutting hours for workers continues to grow. Employers seek to keep staff below the 30-hour threshold set by the not-so Affordable Care Act. [Read more…]