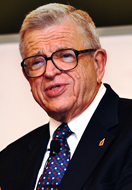 by Chuck Colson –
Folks, we have reached the point where Christians may be called to actively defy the government of the United States. This is a shocking and sobering statement, but I'm sorry to say it's true.
If you've read the Manhattan Declaration–and I pray you have read it and signed it—you'll know that we predicted this time would come. We just had no idea it would come so soon.
As you know by now, Obama Administration has refused to grant religious organizations an exemption from purchasing health insurance that covers abortion-inducing drugs, surgical sterilization, and contraception.
The Catholic bishops responded quickly, decrying the Administration's decision for what it is—an egregious, dangerous violation of religious liberty. [Read more…]