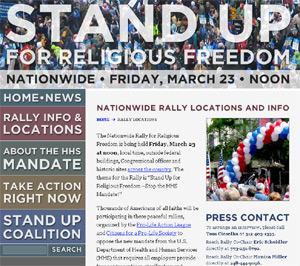 The Nationwide Rally for Religious Freedom is being held Friday, March 23 at noon, local time, outside federal buildings, Congressional offices and historic sites across the country. The theme for the Rally is "Stand Up for Religious Freedom—Stop the HHS Mandate!"
Thousands of Americans of all faiths will be participating in these peaceful rallies, organized by the Pro-Life Action League and Citizens for a Pro-Life Society to oppose the new mandate from the U.S. Department of Health and Human Services (HHS) that requires all employers provide free contraceptives, sterilization and abortion-inducing drugs through their health plans, even in violation of their consciences.
Religious leaders and other public figures will speak out against the HHS Mandate at each Rally site. Holding signs reading "Stand Up for Religious Freedom" and "Stop the HHS Mandate," participants will offer hymns and prayers for our nation and pass out literature to the public about why the HHS Mandate is unconstitutional and Un-American.
The Nationwide Rally for Religious Freedom will be a peaceful, family-friendly, non-partisan, ecumenical event. For more information, please see the Rally Guidelines and Protocols, below.
Stand Up For Religious Freedom
http://standupforreligiousfreedom.com
Rally Guidelines and Protocols
The Nationwide Rally for Religious Freedom welcomes all participants, of whatever religious persuasion—and even those of no religious faith—who are united by support for and desire to protect the United States Constitution's First Amendment right of religious liberty currently under attack by the HHS Mandate.

It is not the purpose of these Rallies to promote or advocate for any political party or political movement. Thus Rally participants are asked to not bring political party or candidate signage to the rallies or distribute such literature.

All those who attend are expected to comport themselves peacefully at all times while asserting their Constitutional right to freedom of assembly.

Families, even those with small children, should feel at home and comfortable attending this Rally.

If opposition protests are conducted, Rally participants will not engage counter demonstrators or hecklers with loud verbal argumentation, name-calling or derogatory remarks, nor will such opponents be physically engaged in any way.

Any interference with Rally participants' rights to freedom of speech and assembly will be referred to police authorities by local Rally leaders.

If Rally participants are approached by media for comment, they should refer reporters and journalists to local rally coordinators for an interview.