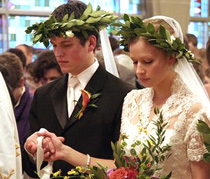 by Deacon Keith Fournier –
True marriage is the preeminent and the most fundamental of all human social institutions. It is a relationship defined by nature itself and protected by the natural law that binds all men and women. It finds its foundation in the order of creation. Civil institutions do not create marriage nor can they create a "right" to marry for those who are incapable of marriage. …
It seems that almost weekly there is another assault on true marriage. The unrelenting efforts of an activist wing of the homosexual community have nearly succeeded in reframing the issues of the debate. They aim to enforce a Cultural Revolution. They have been joined by eager collaborators in the Judiciary and elected officials who believe they are some kind of new "liberators".