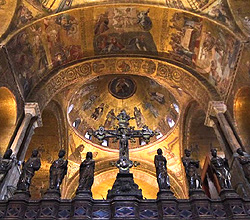 by James V. Schall, S.J. –
When asked why he entered the Church, Chesterton, in a famous passage, replied: "To get rid of my sins." The New Testament also makes it clear that this riddance of sins is the central purpose of redemption. Christ did not come so much to define what sins were – we have to be pretty obtuse not to have an inkling of what they are – but to forgive them.
He claimed this power, which was indeed a divine power. That claim scandalized the Jewish leaders who heard Him. But He was firm in His purpose. He proceeded to give His apostles in the Church power to continue this central purpose, but only in His name.
Christ's coming, then, is a relief that we finally have some authentic way to get rid of our sins. The presumption is that we want to do so because we know the burden they impose on each of us. The "thou shalt not's" of the commandments are pretty basic. [Read more…]