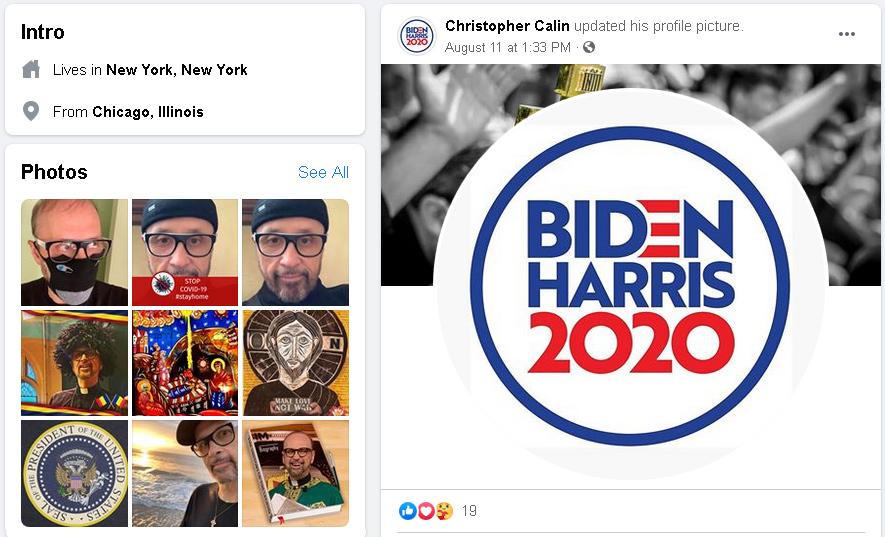 by Jennifer Davis –
Fr. Christopher Calin, priest in the OCA, publicly posted a Biden/Harris 2020 campaign sign on his Facebook page. He proudly endorses some of the most radically pro-abortion and pro-LGBTQ Democrat candidates this country has seen. The Biden/Harris platform is anti-life and anti-Christian, it goes against unchanging moral principles and teachings of the Orthodox Church. But that does not bother Fr. Calin in the least. He still embraces the Biden/Harris ticket.
This public spectacle brings dishonor to his priesthood. Any priest who supports politicians who champion abortion or partial birth abortion, celebrate homosexual sin, and defend the chemical castration and mutilation of children demanded by transgender LGBTQ activists, scandalizes the Church. Shame!
Radical Pro-Abortion Agenda of Biden-Harris 2020 (from LifeNews.com)
"A Biden/Harris ticket will be the most pro-abortion ticket in history," said Carol Tobias, president of the National Right to Life Committee. "Both Joe Biden and Kamala Harris support radical abortion policies. A Biden/Harris administration would roll back protective legislation such as the Hyde Amendment and force taxpayers to pay for abortion on demand."

Joe Biden and Kamala Harris support the Democratic platform of unlimited abortion even through birth.

Joe Biden and Kamala Harris have both been endorsed by NARAL Pro-Choice America. In their release endorsing Joe Biden, NARAL pointed out that a Biden/Harris presidency would "expand access" to abortion.

In addition, NARAL also noted the real promises that a Biden/Harris administration would fulfill by promising to "only appoint judges" that would uphold Roe v. Wade and support the repeal of the Hyde Amendment. They also praised the Biden/Harris ticket for promising to reverse the Mexico City Policy which prevents federal tax dollars from being used by organizations that perform or promote abortions overseas.
Radical Pro-Abortion Agenda of Biden-Harris 2020 (from FamilyPolicyAlliance.com)
Harris on Abortion: Supports It Up to Birth – and Beyond
For starters, Harris toes the line of Planned Parenthood on every abortion issue:

Supports abortion up to the moment of birth – and even after, calling it a woman's decision on whether care should be offered to a baby who survives an abortion
Has a 100% voting record according to Planned Parenthood and NARAL Pro-Choice America
Sponsor of the infamous "Women's Health Protection Act" that would have invalidated nearly every federal or state restriction on abortion

But Harris goes even further. She has a plan to pre-emptively stop states from passing new pro-life legislation. Under her plan, states and localities that "have a pattern of violating Roe v. Wade" would have to seek pre-clearance from the Department of Justice before a law dealing with abortion could go into effect. Specifically, the Department of Justice would have to certify that "it comports with Roe v. Wade."
Radical Pro-LGBT Agenda of Biden-Harris 2020 (from FamilyPolicyAlliance.com)
Harris on LGBT Agenda: Zealous Advocate for Full Playbook
Harris first gained notoriety on LGBT issues when, as Attorney General of California, she refused to defend Prop 8, the constitutional amendment protecting marriage that was passed by the voters of California. Later, as AG, she personally performed same-sex weddings.

As a presidential candidate, she zealously advocated for the entire LGBT playbook, plus some of her own additions. These included:

Forcing school students to share bathrooms and locker rooms with the opposite gender
Overturning President Trump's ban on transgenders in the military – thus prioritizing social engineering over military readiness
Establishing a White House LGBT czar – the "Chief Advocate for LGBTQ+ Affairs" – who would work with agencies throughout the federal government to advance the LGBT agenda
Forcing taxpayers to subsidize so-called "sex-change" surgeries through guaranteed coverage in her Medicare for All plan

Harris on Religious Freedom: Limit It
Sen. Harris seems to only have one approach with regard to religious freedom – limiting it. In fact, she introduced a bill to do exactly that. Her so-called "Do No Harm Act" would forbid First Amendment religious freedom protections if the religious views were deemed to be discriminatory against people who identify as LGBT. In other words, in Kamala Harris' world, the LGBT worldview trumps religious freedom every time.
Fr. Calin Thanking Obama with Proud LGBT Colors
This is not the only shameful public act of Fr. Calin. As a big supporter of President Obama, back in January 26, 2017, he posted a Thank You when Obama left office. That in itself was in poor taste, given Obama's pro-abortion and pro-LGBT policies. What made it even more shocking, was the picture Fr. Calin chose to publicly share with the world. It proudly displayed the LGBT colors as the background. See for yourself.