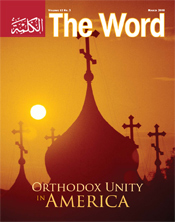 by Editors –
The following information originally appeared in The Word, January 1984, pp. 6-11. The Word is the official news magazine of the Antiochian Archdiocese. Published monthly (with the exception of July and August) the magazine circulates to the households of all members of the Antiochian Archdiocese and other subscribers including libraries and seminaries.
Orthodox Statement on Homosexuality
The position of the Orthodox Church toward homosexuality has been expressed by synodical canons and Patristic pronouncements beginning with the very first centuries of Orthodox ecclesiastical life.
Thus, the Orthodox Church condemns unreservedly all expressions of personal sexual experience which prove contrary to the definite and unalterable function ascribed to sex by God's ordinance and expressed in man's experience as a law of nature. [Read more…]