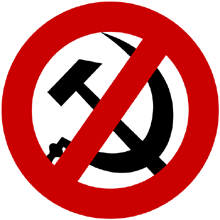 by Dr. Ileana Johnson Paugh -
I am in Washington, D.C. surrounded by expensive SUVs, Hummers, Mercedes, and "environmentally friendly" Priuses sporting stickers with Hope and Change, Socialism 2012, advertising socialism and communism, to the detriment of the "evil" capitalist system that afforded them those cars and a luxurious lifestyle.
A few beat up cars are liberally covered in communist slogan stickers, phony empty words that promise "redistribution of wealth" and a nanny state. I ponder for a moment if progressives are still waiting for their free gas, housing, day care, jobs, education, medical care, endless vacations, and a chunk of paradise from the "filthy, rotten rich" who deserve to be stripped of everything they own. I still do not understand why they call themselves "progressives" when they are really longing for regression to a life of slavery to the government.
Ardent Democrats and some Republicans believe the rhetoric that a socialist/communist state will bring Shangri La because it will be delivered by a community organizer who has a sonorous voice and reads speeches well. Is it futile to remind them that many countries who have tried the communist model have failed miserably? Millions have lost their lives in re-education camps due to famine, persecution, or refusal to comply with the daily communist indoctrination. [Read more...]