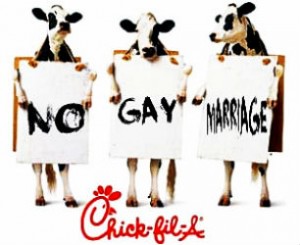 by Catholic Online –
Fast food chain Chick-fil-A takes pride in espousing Christian values, closing all of its 1,600 restaurants every Sunday. The chain also handed out fliers in protest of the controversial Bible epic "The Last Temptation of Christ" in 1988. Now, Chick-fil-A's President Dan Cathy's recent comments on defending true marriage have stirred controversy – on online communities and elsewhere. …
"Guilty as charged," Cathy said when asked by the Baptist Press about his company's support of the traditional — as opposed to gay marriage.
"We are very much supportive of the family – the biblical definition of the family unit. We are a family-owned business, a family-led business, and we are married to our first wives. We give God thanks for that," Cathy said.
Response to Cathy's comments has been vituperative online. The comments have made Chick-fil-A the top Google trend as the company's Facebook and Twitter pages were burning up with arguments.
"Hate mongers! Never again! Not another $ from me," "Goodbye Chick-fil-a! your food was delicious, but I can no longer eat nuggets filled with hate!" has been the general tone of the comments.
"I am truly ashamed of the recent admittance from [Mr.] Cathy about your bigoted company practices. I hate the fact that my money was used for this. I will never support your company (and) will make sure anyone I know does not either," Mikell Kirbis wrote on Facebook.
"While I'm not a Christian I know that hate is not in God's plan nor (is) ignorantly picking sections of the Bible to brandish. Good bye and I hope either you change your ways or close down."
Support for Chick-fil-A's defense of true marraige policy has brought enthusiastice response as well. .
"Just wanted to say I'm proud that you stand firm in your beliefs. You knew the risks, and still took the plunge. May God bless this company with abundance. Never back down!" a Facebook post from David Jones read.
"Thank you for standing up for what you believe. The truth is not hate. It's just the truth," Sharon R Boyd wrote.
"I love the values that this restaurant stands for and will support it every dang chance I get! Pay no attention to the morons spewing hate!" read another.
HT: Catholic Online