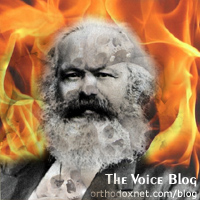 by Richard F. Miniter –
Isn't long past time that conservatives take a pitchfork in one hand and a flaming torch in the other, and then, after mustering up the like-minded, simply burn Frankenstein's castle down? Especially since as far back as 1942 George Orwell pointed out just how combustible the Left-Wing Liberal edifice really is?
After all, it isn't as if we haven't tried reasoned argument, but it's dismissed by the Left-Wing Liberal, often with vicious personal attacks. Evidence of the idiocy or unintended consequences of left-wing laws, regulations, and redistributions haven't mattered at all either. Neither have appeals to tradition, the Constitution, the concept of individual responsibility or rights. It's true that the left received a bloody nose in 1946, 1994, and 2010, while the Reagan years covered his aggressively pro-American foreign policy in glory, but ever since that long-ago Supreme Court wilted under FDR's animosity, government has continued to metastasize, individual rights have continued to shrink, and this once-magnificent Republic has continued to lose ever more substance and color.
So all in all, what choice do we have other than to go after the one individual whose horrible vulnerability Orwell pointed out? The one individual upon whom the entire Left-Wing Liberal movement depends, and must depend for its galvanic power — the liberal intellectual?
And what is an intellectual?
Well, the dictionary definition is one thing, but what we commonly mean by the term isn't a Ph.D. in physics. And neither do we so call those highly educated in such disciplines such as engineering, math, chemistry, quantum mechanics, metallurgy, and medicine intellectuals. Instead, we usually hang the label on those really, really smart people who pursue advanced degrees in social work. Or, for that matter, art history, leftist helpless economics, women's studies, community studies, and education (I'm leaving a lot out here). Although it should be pointed out that David Mamet throws the net much wider with his "increasingly affluent and confused" definition, and "confused" is often a dead giveaway. However, with Jean-Paul Sartre, the famous French intellectual, once describing human history as "a long and arduous road which led to me," perhaps confusion accompanied by an exorbitant sense of self-importance might be a better rule of thumb.
Be that all as it may, almost the first thing we learn about intellectuals when we examine them a bit more closely is that they are not historically important. They didn't for example fight the American Revolution or write the Constitution. They also had little or maybe nothing at all to do with the Industrial Revolution or with English Common Law (except recently in its corruption). Left-Wing Liberal intellectuals didn't write Shakespeare, paint the ceiling of the Sistine Chapel, or teach us how to can peas.
They are, in point of fact, a relatively recent phenomenon in Western civilization which Paul Johnson wonderfully describes in his eye-opening book Intellectuals as:
… [a group of educated] men who arose to assert that they could diagnose the ills of society with their own unaided intellects: more, that they could devise formulas whereby not merely structure of society but the fundamental habits of human beings could be transformed for the better.
In this light, we can turn to the intellectual's intellectual, Karl Marx, for a more detailed illustration. A man who is to this day renowned by a vast fawning claque for his insights about capital and factory systems. But yet a man who, insofar as can be determined, never had a acquaintance or a source with any experience in the capital markets except an uncle he tried to borrow money from and never, again insofar as can be determined, ever once visited a factory, mill, shipyard, mine, or foundry in order to find out firsthand what was going on there.
Instead, Karl Marx spent a tantrum-laden lifetime relying on his "unaided intellect" to arrive at what conclusions he did about these things. Close to thirty years hidden in a library intellectualizing about how a rapidly industrializing society could and should be "transformed." (Not in the best humor, I might add, because he invariably screamed "I will annihilate you" at anybody who even timidly questioned one of his ideas.)
A man who raped (the actual term I'm interpreting here is "made her his mistress") the middle-aged, mentally challenged, and unpaid servant of his wife, whose two of three daughters committed suicide, who never supported his family other than by begging or running out when the rent was due and whose work product proved an absolute disaster for numerous peoples. Cost millions of them their lives and wrecked vast nations. Yet a man whose theories are lauded and applauded for their insight in hundreds of university faculty lounges across the world, including our own.
But, one might ask, Karl Marx is one thing — we can all agree he was a nutcase (or at least we should) — but don't any of these intellectual folk ever come up with a good idea? After all, there's an awful lot of them with an awful lot of ideas.
Both the short and long answer to that question are no. And the reason is because despite all of the propaganda about "scientific" socialism, few of the left-wing intellectuals practice the scientific method. They don't posit a hypothesis and a null hypothesis; their results can't be replicated by disinterested parties; in fact, they don't even have any results they want verified. Instead, what they want you to do is accept their insights without any tangible proof at all, and if you don't? Well, they might couch their response in somewhat different terms, but it boils down the same message Marx screamed at slackers: "I will annihilate you."
Of course, the use of the personal pronoun is misleading because while intellectuals might want to annihilate you, they're not exactly men of action themselves. Instead, like when Lenin called in the Letts to murder the sailors at Kronstadt or certain unnamed leaders of a certain unnamed political party called in SEIU things to beat up a black Tea Party vendor, they always have somebody else handle the wet work.
Indeed, intellectuals are so distant from the fray that they don't operate in the same world with the same rules as yours and mine. In an intellectual's magic mind, there isn't necessarily any force of gravity, any love which binds families together, any individual incentives — no rights or obligations which can't be magically transformed to suit his visions. In fact, the intellectual complains, "but that's not the way we want it to be" (hat tip to David Mamet again) when forced to confront certain facts or facts of life.
Because, and this is very important, the intellectual honestly believes that he's smarter than all that. Smarter than the tidal pull of the moon, smarter than market forces, smarter than Ben Franklin, smarter than your mom.
And the reason why the intellectual is so blithely uncaring about the opinion of the untermenschen is because he also believes that once his theory is in force, you will change. Be transformed. You and your habits. Your loves and affections, your values and beliefs.
Hmmm? Change? Transform? Who does that remind you of?
Am I overstating the case about the truly awful hollowness of these people? I don't believe so — indeed, I may be understating it, because some really bright people like Dr. Thomas Sowell make the same point in an even more sweeping manner (see An Ignored 'Disparity': Part II).
But then where is their weakness? Moreover, how could they possibly have any weaknesses when facts don't count, morality doesn't count, history doesn't count, and what the average person believes or wants or desires out of life doesn't count?
Which is our cue to turn to exactly what George Orwell wrote in 1942 in "H.G. Wells, Hitler and The World State 1941":
The energy that actually shapes the world springs from emotions — racial pride, leader-worship, religious belief, love of war — which liberal intellectuals mechanically write off as anachronisms, and which they have usually destroyed so completely in themselves as to have lost all power of action.
And so here is the Left-Wing Liberal intellectual's weakness. His one horrible vulnerability: the fact that for all practical purposes the fairy castle in his mind is surrounded by a moat of extremely volatile liquid energy. The energy which "actually shapes the world" and which he pretends can't even see and certainly doesn't have any "power" over. Genuine emotion.
After all, consider what two emotions consistently hand the Left-Wing Liberal the occasional defeat he does suffer in America: religion and patriotism. The Evangelicals and the patriots almost all by themselves represent the only two forces the Left-Wing Liberal has no power against. Love of God and love of country. Two emotions destroyed so completely in Left-Wing Liberal intellectuals that they don't even understand them any longer. Can't explain them and, in truth, can only fear, ridicule, and try to marginalize them.
But is that it? Luckily, no, because there are any number of other emotions conservatives can unleash. Other pools of genuine emotion conservatives can out alight. Love of life. Love of place, fair play, and justice. Revulsion at vote-buying with your money, incompetence and arrogance in public education, character assassination. Fury at losing the ability even to choose a toilet or light bulb. Hatred of the judges and lawmakers who embrace social theories which release horrible criminals to prey on our sons and daughters. Umbrage at being talked down to. The list is endless in its specificity. In truth, there's an ocean of angst and rage and love and imagination on issue after issue out there on the hustings, more than sufficient.
All we have to do is put a match to them.
Even if an appeal to emotion seems counter-intuitive for the reasoning party. Even if we will inevitably be labeled a "bomb-thrower," a "racist," "homophobe," callous," "uncaring," "partisan," or "extreme."
So in that spirit I offer the following list of emotion-laden talking points and bumper stickers for the November election:
* POVERTY IS A DECISION
* HELP US STOP PLANNED PARENTHOOD FROM KILLING BLACK BABIES
* TEACH GAY KIDS ABOUT STRAIGHT SEX
* WHY WON'T THE OCCUPIERS OCCUPY THEIR OWN MINDS?
* HIGHER SCHOOL TAXES EQUALS LOWER PROPERTY VALUES, MORE TEACHERS AND DUMBER KIDS
* THE DEMOCRATIC PARTY IS SOCIALISM'S MIGRANT DAY LABOR
* WELFARE RECIPIENTS CONTRIBUTE NOTHING TO SOCIETY EXCEPT A BODY TEMPERATURE OF 98.6
* HE THAT DOESN'T WORK, NEITHER SHALL HE EAT
* LIBERALS ARE BY DEFINITION ANTI-AMERICAN
* THE NATIONAL DEBT EQUALS THE AMOUNT OF MONEY SPENT ON THE "POOR" SINCE 1964, SO MAKE THEM PAY IT
* JESUS OFFERED INDIVIDUAL SALVATION NOT A UNION DEMANDING INCREASED BENEFITS
* NANCY PELOSI CAME FOR YOUR TOILET BOWL AND LIGHTBULBS, NOW OBAMA WANTS YOUR TOILET PAPER AND FLASHLIGHT
* REQUIRE PUBLIC SCHOOL TEACHERS TO PASS A LITERACY TEST
* YES THERE ARE TOO DEATH PANELS
* TOO BAD THE INDUSTRIAL REVOLUTION MADE LEFT-WING STUPIDITY CHEAPER AND MORE ABUNDANT TOO
* BAN SOCIAL WORK
* EVER MEET A PSYCHOLOGIST WHO DIDN'T HAVE BIG ISSUES HIMSELF? THINK ABOUT WHAT THAT MEANS
* THE EPA HAS NO VISION OF THE FUTURE THAT INCLUDES ANY HUMAN BEINGS
* PUBLIC ASSISTANCE LACKS INDIVIDUAL PRIDE
* PRESERVE LIBERTY FOR OUR CHILDREN, NOT FOOD STAMPS
* POSTURING LIBERALS ARE ONE THEORY SHORT OF A THOUGHT
* NO SAFETY NET, SOME PEOPLE NEED THE IMPACT
* PRAYER IS FREE SPEECH
HT: American Thinker