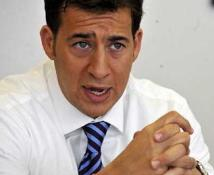 7/8/2010 – Fr. Johannes Jacobse –
Alexi Giannoulias, Illinois Democratic nominee for US Senator, [and member of the Greek Orthodox Church] supports homosexual marriage. Here's the introduction from the Greek Star (a Chicago newspaper with Greek readership):
Alexi Giannoulias, Democratic nominee for US Senator, shares why he supports the freedom to marry for all, including people of the same sex. This is something that many of his supporters, and especially Greek-Americans may be opposed to. The Greek-American politician chose to be honest and he should be given credit for being brave to state his opinion on a difficult subject. He stated, "There may be many individuals that may not be happy with my particular stance". The Greek Orthodox church does not allow, or support, same sex marriage. Giannoulias in the video continues "To me faith has always been less about how you treat God and more about how you treat people."
Moral relativism afflicts the Greek Star as much as it does Giannoulias. Since when is a stand against the moral tradition an act of bravery? Why the accolade for a position that flies in the face of Church teaching?
What you see in Giannoulias is the same syndrome that affects former Senator Paul Sarbanes and Senator Olympia Snowe who had no qualms ignoring Church teaching on the sanctity of life in their public lives. Both Sarbanes and Snowe never met an abortion provision they did not defend. Both voted against the repeal of partial birth abortion, and both supported the funding that promoted abortions in the Third World (a particularly noxious form of cultural imperialism). Giannoulias takes the accommodation of the moral deconstruction of Western culture to the next level: redefine marriage to sociological insignificance.
And no, Alexi, the Christian faith is not about "how you treat God." The Christian faith is about how God has treated you. Then, and only then, will you properly understand how to treat people.
The real failure, at least the primary failure, does not really rest with Giannoulias, or Sabanes or Snowe. The primary failure is the accommodation the Church makes with culture by lauding these politicians without correction. Giannoulias simply reflects the generation that follows Sarbanes and Snowe. The generation that follows Giannoulias will justify even more egregious sin. The culture is in abject moral confusion and, because the Church refuses to draw clear moral distinctions, so are our parishioners. That's why Giannoulias supports homosexual marriage and why the Greek Star thinks his stand is virtuous.
Here's the video: