Look at the amazingly clear and moral thinking going on in the Catholic Church. Replace the word "Catholic" with the words "Orthodox", "Anglican", "Lutheran", "Baptist", or just "Christian" and this editorial applies universally to all those who claim to believe in Jesus Christ as the only begotten Son of God, the Messiah, Light of Light, True God of True God, and the Savior of mankind.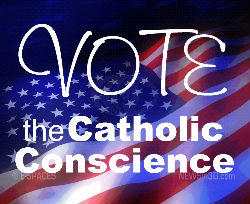 11/2/2010 – Deacon Keith Fournier –
On Tuesday, November 2, 2010, voters in the United States of America will go to polling places in every State in the Union where we have the privilege of exercising our constitutional right to vote. The pundits who filled our television and computer screens with endless predictions on who will win or whether this will be a "wave" election will finally stop talking, at least for a while. The voters will do the talking. Catholics in the United States have an obligation, both as citizens and as Catholics, to vote in a manner consistent with what is true and right, and good.
On April 18, 2005, Joseph Cardinal Ratzinger offered a homily on the eve of the convocation which elected him Pope. Here is an excerpt:
"How many winds of doctrine we have known in recent decades, how many ideological currents, how many ways of thinking. The small boat of thought of many Christians has often been tossed about by these waves – thrown from one extreme to the other: from Marxism to liberalism, even to libertinism; from collectivism to radical individualism; from atheism to a vague religious mysticism; from agnosticism to syncretism, and so forth. Every day new sects are created and what Saint Paul says about human trickery comes true, with cunning which tries to draw those into error (cf Eph 4, 14).