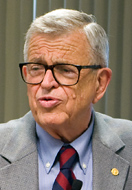 by Chuck Colson – July 27, 1945. London is still slowly recovering from six years of war with Germany. Hundreds of thousands of British soldiers are dead. British cities are in ruins. As newsreels expose fresh horrors from the Nazi death camps, the British people wonder, "Is there no end to German atrocities?"
Thus, it was not surprising that many Brits recoiled when they heard about a memorial service at London's Holy Trinity Church—not for England's war dead, but for a German. The service would be broadcast on the BBC. Many wondered: Could there be such a thing as a good German, worthy of such an honor?
The answer was emphatically yes. The service was for Pastor Dietrich Bonhoeffer, executed by the Nazis three weeks before the war's end. Bonhoeffer is often remembered for his resistance to Hitler, in fact taking part in the plot to kill him. But Bonhoeffer is also celebrated for his role in a significant event in the life of the Church—the drafting of the Barmen Declaration.