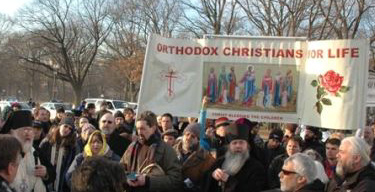 OCA –
Orthodox Christians everywhere — especially those within driving distance of the US capital — are encouraged to bear witness to their faith at the annual March for Life Monday, January 23, 2012.
As in years past, His Beatitude, Metropolitan Jonah, will speak at the pre-March program and offer prayers for the victims of abortion at the conclusion of the March. He will also attend the annual Rose Dinner.
Other members of the Orthodox Church in America's Holy Synod of Bishops who will participate in the March are His Grace, Bishop Melchisedek; His Grace, Bishop Michael; and His Grace, Bishop Matthias. Archpriest John Jillions, OCA Chancellor; Archpriest John Kowalczyk, a pro-life activist and co-founder of the Orthodox Presence at the March for Life; numerous other clergy; and students and faculty members of Saint Tikhon's and Saint Vladimir's seminaries also plan to be in attendance. The seminarians will carry the icon of the Visitation of the Theotokos to Elizabeth, borne by Orthodox faithful annually during the March.
On Sunday, January 22, March participants are invited to attend Vespers at Saint Nicholas Cathedral. The Divine Liturgy will be celebrated the following morning at 9:00 a.m.
The March will begin at noon. Orthodox Christian faithful are asked to gather under the "Orthodox Christians for Life" banner on the National Mall, west of Eighth Street near the Smithsonian Castle, to the left of the main stage. Metropolitan Jonah will deliver the opening invocation. Representatives of other traditions, including members of the US Catholic Conference of Bishops, also will be present.
After the rally, marchers will proceed up Constitution Avenue to the US Supreme Court, where a Memorial will be celebrated for the victims of abortion.
"For over 25 years, Orthodox Christians from throughout the country have gathered in the nation's capital to show their dismay for the millions of children who have been aborted since the infamous decision of Roe v. Wade," Father Kowalczyk said. "This March for Life Movement has united many Christians of all denominations on the principle, of what Saint Gregory of Nyssa says, 'Life begins at conception.'
"The Orthodox presence in this March has inspired other Christians to view Orthodoxy not simly as an ethnic identity, but a Church with a moral teaching," Father Kowalczyk continued. "And we are willing to take this sacred teaching to the "public market places of society.
"We are excited once again to have the Bishops of the Orthodox Church in America, who will be present with Metropolitan Jonah, who will be speaking at the rally," Father Kowalczyk concluded.
HT: OCA