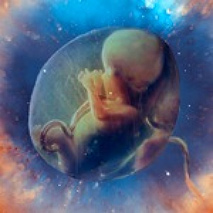 by Msgr. Charles Pope –
The magnificence of life is really too wonderful to describe. But I found this description some years ago which summons reverence by its very ability to baffle the mind:
MIRACLE OF LIFE– Consider the miracle of the human body. Its chemistry is just as extraordinarily well tuned as is the physics of the cosmos. Our world on both sides of the divide that separates life from lifelessness is filled with wonder. Each human cell has a double helix library of three billion base pairs providing fifty thousand genes. These three billion base pairs and fifty thousand genes somehow engineer 100 trillion neural connections in the brain—-enough points of information to store all the data and information contained in a fifty-million-volume encyclopedia.

And then after that, these fifty thousand genes set forth a million fibers in the optic nerves, retinae having ten million pixels per centimeter, some ten billion in all, ten thousand taste buds, ten million nerve endings for smell, cells that exude a chemical come-on to lure an embryo's lengthening neurons from spinal cord to target cell, each one of the millions of target cells attracting the proper nerve from the particular needed function. And all this three-dimensional structure arises somehow from the linear, one-dimensional information contained along the DNA helix. Did all this happen by chance or do you see the hand of God?