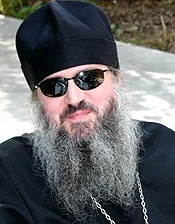 by Fr. John Whiteford
In response to the debate about homosexuality that is currently going on in the OCA, there is now an "Open letter to OCA Holy Synod from college students and young adults" that has been sent to the bishops of the OCA, and is making the rounds on the internet.
This letter is a classic example of the use of politically correct arguments to shut down those whom liberals disagree with, rather then deal with the actual substance of the question. This tactic is not by accident. When you can't deal with the substance of an issue, complaining about the tone of those you can't answer will do, in a pinch.
In short, the letter complains about the tone of those who say homosexuality is a sin, without unequivocally stating what the correct teaching of the Church actually is on the subject. There is no acknowledgment that statements that are morally ambiguous might be of any legitimate concern, only condemnation of those who seek to make clear what the teaching of the Church is. [Read more…]