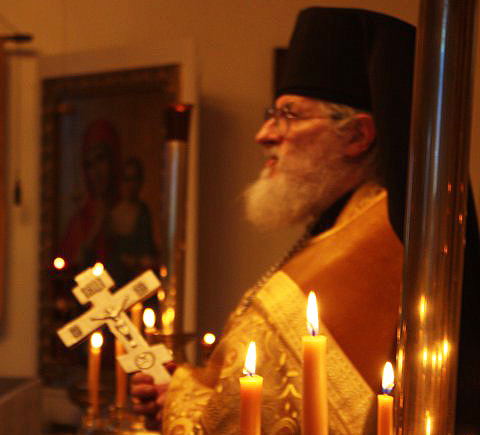 by Fr. Juvenaly Repass –
In his Foreword to The Wheel magazine Met. Kallistos Ware doesn't just say "let's learn more about this problem," he questions whether Church teaching is right. He asks whether it is right for us (the Church) to impose on persons of same-sex orientation, the "heavy burden" of not being able to marry. The very clear implication is that they should be able to marry (in Church)!
Or perhaps he means that they should be able to have some sort of church blessing other than marriage – but in the Orthodox Church, marriage is the only context in which sexual union is blessed; apart from marriage, it is deemed sinful, and how can what is sinful be blessed?
It is shameful that a hierarch would hold these views, and worse still (if that's possible) that a hierarch would mislead others by disseminating these opinions. Met. Kallistos has stepped over a line, and he should be disciplined.
I'm not at all surprised that he has written these things: his opinions were clear in a talk he gave to the assembled students and faculty of Saint Tikhon's Seminary some years ago, in which he stated that he would not counsel persons who were in a committed same-sex relationship, to separate. What could be a clearer departure from Church teaching, discipline, and ethics, than that?
Met. Kallistos also errs by saying that it is we (the Church) who impose that "heavy burden." It is not – it is the law of God, and Him laid down that law. It is the divine order established for humankind by our Creator who made us. It is neither right nor possible for us to change what God has established.
In addition, this "heavy burden" is no different from the struggle that we all wage against our passions – little by little, it becomes a "light yoke" with the help of Christ. For he said, "Come to me, all you who labor and are heavy laden, and I will give you rest. Take my yoke upon you and learn of me, for my yoke is easy, and my burden is light."
This is what the Metropolitan is failing to teach – a failure that is an abrogation of his sacred duty as bishop to teach true and saving doctrine. He is instead saying that it is better for a priest to counsel people to accept and even be "committed" to what is contrary to divine law, and is a passion and a sin – as preferable to continuing to wage the struggle against that passion and sin.