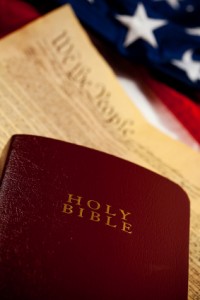 by Mike Miller (Supreme Court Justice Antonin Scalia) –
During a speech at Colorado Christian University on Wednesday, Supreme Court Justice Antonin Scalia argued that the U.S. Constitution does not prohibit religious references in public places, including schools: "I think the main fight is to dissuade Americans from what the secularists are trying to persuade them to be true: that the separation of church and state means that the government cannot favor religion over nonreligion."
Scalia suggested that if Americans want a more secular political system, such as those in Europe, they can "enact that by statute, but to say that's what the Constitution requires is utterly absurd."
At the heart of the argument over separation of church and state lies the age-old debate over the intent of the First Amendment:
"Congress shall make no law respecting an establishment of religion, or prohibiting the free exercise thereof; or abridging the freedom of speech, or of the press; or the right of the people peaceably to assemble, and to petition the Government for a redress of grievances."
So is the intent "freedom of religion," or "freedom from religion"? Justice Scalia argues that it is the former:
"We do Him [God] honor in our pledge of allegiance, in all our public ceremonies. There's nothing wrong with that. It is in the best of American traditions, and don't let anybody tell you otherwise.

I think we have to fight that tendency of the secularists to impose it on all of us through the Constitution."
As a conservative on the bench, Scalia has endured the wrath of liberals for years. These comments are sure to add to the fire. His take on his critics?
"What can they do to me? I have life tenure."