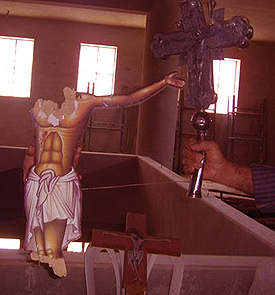 by Editors –
Obama's and John McCain's friends in Syria – the so-called "Syrian rebels" continue to bring death and destruction upon Christians and Christian churches in Syria. They're nothing more than bloodthirsty killers seeking to impose Islamic law on the Syrian people.
The following describes some of the latest atrocities committed by Obama & McCain's supposed allies in Syria:
DAMASCUS, SYRIA (BosNewsLife)– Mourning Christians in Syria were still awaiting answers Monday, July 8, as to why  Islamic militants with links to opposition rebels entered Christian villages more than a month ago killing several people,  including children, in what locals called a "massacre".
Vatican-backed news agency Fides said the gunmen raided the village of al-Duwayr/Douar, outside the city of Homs near Lebanon, where they immediately executed a man and his daughter in their home and burned their bodies.
The fighters reportedly also occupied the village church from where snipers began firing at terrified civilians, killing an- 11-year-old boy and a girl of 18, and injuring some 10 people, two seriously.
Syrian rebel snipers began firing at terrified civilians, killing an- 11-year-old boy and a girl of 18, and injuring some 10 people, two seriously.
TRAUMATIZED REFUGEES
Many of the "traumatized" refugees were finding shelter at the Armenian Orthodox parish on the outskirts of Homs, the capital of Homs province, Fides reported.
Local authorities, Red Cross aid workers and priests have also been involved in providing accommodation for refugees in schools and local families, Christians said.
The reported attack on Douar came just two days after Islamic militants reportedly invaded the village of Oum Sharshouh in Homs province where Christians said the fighters were seen shooting and burning down homes. There were no reports of casualties but more than 250 Christian families were forced to flee, Fides said."Why do they hate innocent civilians?" Christian refugees reportedly said, adding that there were also unprovoked attacks in other villages including in the Hama area, north of Homs.
There has been international concerns that Islamic militants have infiltrated the mainstream rebel group, known as the Free Syrian Army, who have been fighting the government forces of President Bashar Hafez al-Assad in a two-year war that has claimed over 100,000 lives.
MORE KILLINGS
Other religious groups have also been targeted. Last month, Syrian rebels attacked a village in the country's east, killing dozens of Shia Muslims, activists said.
The Britain-based Syrian Observatory for Human Rights said at least 60 people were killed in the village of Hatla in the oil-rich province of Deir al-Zour, bordering Iraq.
Why do they hate innocent civilians?
At the same time, opposition activists in Syria said recently they documented the deaths of more than 200 men, women and children by government forces in what they called one of "the worst massacres" of the war.
The government claimed a lower death toll and said it had killed "terrorist fighters" in an operation in three neighboring districts in al-Bayda and Baniyas in the west of the country in the first week of May.
However aid groups say minority Christians have often been singled out for attacks by opposition linked groups as well as government forces in the heavily Islamic nation. Besides attacks on villages, several church leaders have been kidnapped and, in at least one recent case, beheaded by suspected Islamic militants.
VATICAN CONFIRMS
In one of the latest known cases, Catholic Priest Francois Murad, 49, was publicly beheaded by suspected Islamic militants in northern Syria after accusations of collaborating with President Assad's government.
The Vatican confirmed Murad's death saying the "Franciscan Father" was "attacked by militants linked to the jihadi group Jabhat al-Nusra" on June 23 after he was pulled from the convent for the Custody of the Holy Land in the northern village of Gassanieh where he had taken refuge. Two others were also beheaded, though it remained unclear whether they were linked to the church.
Additionally the Archbishop of Aleppo, Mar Gregorios Ibrahim, and Greek Orthodox Archbishop Metropolitan Paul Yazigi, still remain unaccounted for since they were kidnapped by suspected Islamic militants in Syria in April.
Pope Francis called for the release of all those taken against their will in the war-torn country.
"This troubled situation of war bears with it tragic consequences: death, destruction, massive economic and environmental damage, as well as the scourge of kidnapping. In denouncing these events I wish to assure my prayers of solidarity for those who have been kidnapped and their families and I appeal to the humanity of the kidnappers for the release of the victims," Pope Francis said last week.
Thousands of Christians have fled the violence and Christian aid and advocacy group Open Doors has warned it will be difficult for them to return, whatever the outcome of the conflict.
(BosNewsLife, the first truly independent news agency covering persecuted Christians, is 'Breaking the News for Compassionate Professionals' since 2004). Help BosNewsLife to be the voice of the voiceless.
HT: BosNewsLife