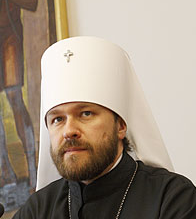 Fr. Johannes Jacobse (AOI)
Met. Hilarion delivered the sermon at Highland Park Presbyterian Church in Dallas, Texas last Sunday (February 13, 2011). The title of his talk was "No One Has Ever Seen God." It was part of a larger pastoral visit where he met with Orthodox believers in the area, had an audience with former President George Bush, and attended the Dallas premier of his symphony "St. Matthew's Passion." Listen to his sermon below.
It's an outstanding talk; a cogent and uncompromising defense of biblical morality and teaching.
http://www.orthodoxnet.com/podcasts/Alfeyev_Hilarion_2011-02-13_God.mp3|titles=Met.
HT: AOI