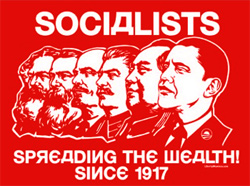 by Jeffrey Folks –
This week I received a credit card offer that suggested I share duplicates of my card with family and friends. "It's more rewarding when you share," the offer promised. Just call the 800 number, and we'll zip a duplicate of your card to any of your family members or friends.
Of course, you'll be responsible for the charges. That's what sharing is all about.
And that conception of sharing has been showing up everywhere lately. It was front and center in Hillary Clinton's 2008 presidential campaign, when she screeched that she'd like to seize ExxonMobil's profits and redistribute them to "smart" green energy companies — smart start-ups like Solyndra, not corporations like Exxon that actually produce something of value.
The same idea underlies Obama's constant talk of "fairness" and of taxing those who "can afford to pay a little more." Obama is simply reciting the fundamental Marxist doctrine of equal distribution of wealth. That idea of equality never translates into reality in actual Marxist societies — far from it. [Read more…]