Those who marry the spirit of this age will find themselves widows in the next.
[ … ]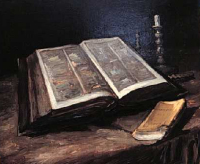 Above (left) is a reproduction of a painting by Vincent Van Gogh, which he composed in 1885. You will notice that there are two books. The larger of the two is the Bible. The other book is entitled: La joie de vivre (Joy of Life) by Emile Zola. Zola was the leading French novelist in the latter part of the 19th century. In 1884 he wrote La Joie De Vivre. It was part of a series of twenty novels he wrote rooted in a philosophical school called Naturalism. Zola helped establish this school.
In summary naturalism taught:
Individual characters were seen as helpless products of heredity and environment, motivated by strong instinctual drives from within and harassed by social and economic pressures from without. As such, they had little will or responsibility for their fates, and the prognosis for their "cases" was pessimistic at the outset.