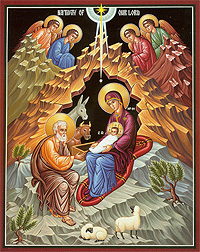 by Fr. Johannes L. Jacobse –
In the Christian tradition of both east and west, the twelve days of Christmas refer to the period from Christmas Day to Theophany. The days leading up to Christmas were for preparation; a practice affirmed in the Orthodox tradition by the Christmas fast that runs from November 15 to Christmas day. The celebration of Christmas did not begin until the first of the twelve days.
As our culture became more commercialized, the period of celebration shifted from Thanksgiving to Christmas Day. Christmas celebration increasingly conforms to the shopping cycle while the older tradition falls by the wayside. It's an worrisome shift because as the tradition dims, the knowledge that the period of preparation imparted diminishes with it.
Our Orthodox traditions — from fasting cycles to worship –exist to teach us how to live in Christ. The traditions impart discipline. These disciplines are never an end in themselves but neither can life in Christ be sustained apart from them. [Read more…]