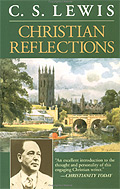 OrthodoxNet.com | C.S. Lewis
In the second place, to understand that logic must be valid is to see at once that this thing we all know, this thought, this mind, cannot in fact be really alien to the nature of the universe. Or, putting it the other way around, the nature of the universe cannot be really alien to Reason.
We find that matter always obeys the same laws which our logic obeys. When logic says a thing must be so, Nature always agrees. No one can suppose that this can be due to a happy coincidence.