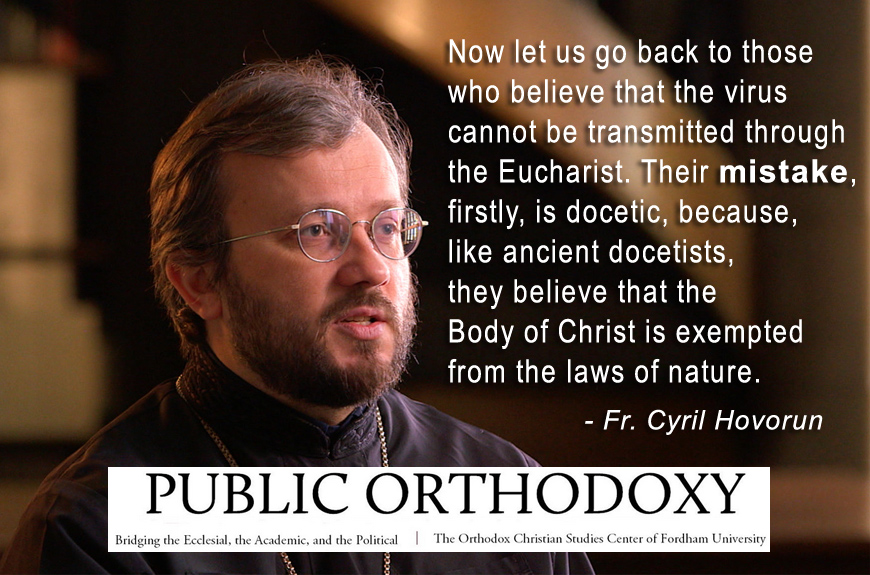 Here comes "Public Orthodoxy" with yet another challenge to the true teaching of the Orthodox Church by Fr. Cyril Hovorun, a progressive academic who appears enamored with the spirit of the world. Hovorun fancies himself wiser than the Apostles, Saints, Fathers, Theologians, and Teachers of the Church. ANAXIOS!
The heretical academics at "Public Orthodoxy" just can't let a serious crisis go to waste.
Key excerpts by Fr. Cyril Hovorun:
"Now let us go back to those who believe that the virus cannot be transmitted through the Eucharist. Their mistake, firstly, is docetic, because, like ancient docetists, they believe that the Body of Christ is exempted from the laws of nature. A docetist text from the Nag Hammadi collection stated about the body of Christ: "Jesus… ate and drank in a special way, without excreting his solids. He had such a great capacity for continence that the nourishment within him was not corrupted, for he did not experience corruption." (Valentinus, fr. 3)."
…
Secondly, those who think so about the Eucharistic Body, fall into the mistake of Manichaeism. Manichaeism was a dualistic doctrine that divided the physical world into good and evil parts. A Manichaean psalm survived in Coptic in the Medinet Madi codex, states: "When the Holy Spirit came he revealed to us the way of truth and taught us that there are two natures, that of light and that of darkness, separate one from the other from the beginning" (Ps. 223)." ~ Fr. Cyril Hovorun
Listed below is the link to the article full of false premises and heretical teaching.
COVID-19 and Christian (?) Dualism
https://publicorthodoxy.org/2020/03/23/covid-19-and-dualism/
————————————
UPDATE:
It gets even worse. One of our blog readers, another Orthodox priest, pointed out that Fr. Hovorun on March 12, 2020, in a post on his Facebook page publicly denounced the Orthodox Church teaching on the Holy Eucharist as "deceitful, irresponsible, and criminal." Fr. Hovorun wrote this (translated, key words and phrases were bolded for emphasis) :
Yes, the virus can be transmitted through a common communion cup. To think otherwise is a docetic attitude towards the gifts. Everyone who comes to the chalice must be aware of it, and make a decision: to receive or not, based on this understanding.

To deceive people and themselves, by invoking faith, promising that nothing will happen, is theologically wrong, as well as irresponsible, and may even be criminal.

For example, I am well aware of this and, nevertheless, I consume the gifts after each and everyone.

What is the alternative to not communing at all? It is possible, for example, to give the gifts to everyone in the hands — as is customary for us with deacons. This does not completely eliminate, but minimizes the risk of infection.

By the way, the Catholics here have moved from the practice of putting a wafer in everyone's mouth, to practice putting it in their hands.
So far that Facebook post was liked by 424 individuals and shared 102 times.
NOTE: We used portions of a translation of Fr. Hovorun's comments available from this article: Coronavirus and the Chalice: Can you get sick, or not? in addition to Google and Facebook translate, in order to insure the accuracy of his comments.
————————————
UPDATE #2:
Another reader mentioned that progressive academic George Demacopoulos (who manages the "Public Orthodoxy" website together with Aristotle Papanikolaou, also a progressive academic) posted this endorsement on his Facebook page:
According to Fr. Cyril Hovorun, the assertion that the eucharist cannot transmit disease is, in fact, a repetition of ancient heresies (namely Docetism and Manicheanism) because the assertion doesn't take into account what one is implying about God as Creator or Christ as human.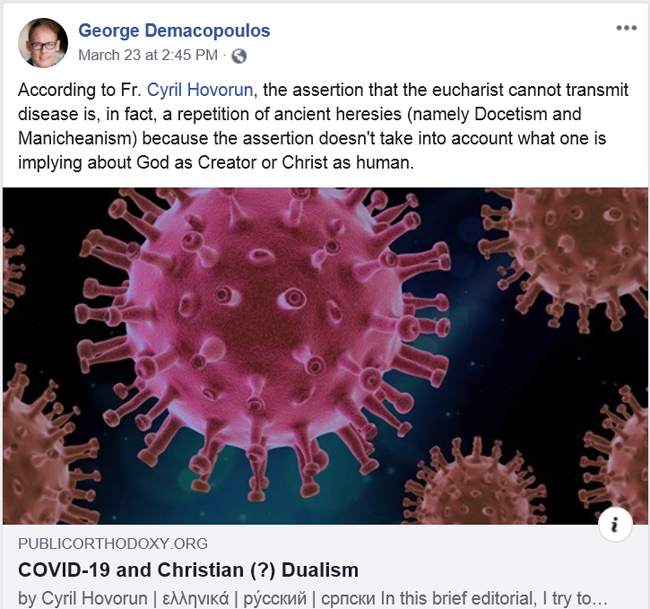 How much longer will this blasphemy and open rebellion inside the Church be tolerated by the bishops?