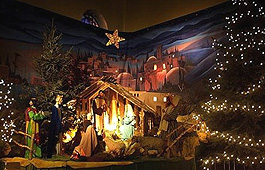 by SpeakUpChurch –
Every Christmas season, it seems that the "war on Christmas" begins afresh and with renewed vigor.  For some, the season that proclaims "peace on earth" seems to be anything but, with demands to remove any and all religious references to the celebration of Christmas. And this year is no exception.
For instance, Western Piedmont College in North Carolina recently replaced the word "Christmas" with the word "holiday" in a student club's announcement of a Christmas tree sale designed to raise money for charity.  It was only after attorneys with Alliance Defending Freedom sent a letter to the college that it reversed its decision and reinstated "Christmas."
In another case, a Little Rock, Arkansas, school was threatened with a lawsuit if it allowed its students to view a play based on the television special "A Charlie Brown Christmas."
There isn't enough space here to tell all of the stories of attempts to sanitize religious words from traditional Christmas carols, remove nativity scenes, ban religious references on Christmas ornaments, replace the word "Christmas," or in some other way to secularize any public celebration of Christmas.
In cases like these, it is easy to become misinformed, or perhaps to begin to accept the mantra that the Constitution requires a purely secular celebration of Christmas in the public square.  But this is not the case, and churches can (and should) do a lot to regain a proper focus in society on the celebration of Christmas.
Alliance Defending Freedom attorneys have created a resource for churches called Seasonal Religious Expression that explains the law regarding celebrations of Christmas both publicly and privately.  Here are some highlights that are of particular interest to churches:
Churches may erect and maintain Christmas displays on their own private property.
Churches can encourage their city or county to display religious symbols of the Christmas season on public property as long as they are displayed amongst other secular symbols of Christmas.
Churches may sponsor a private display of religious symbols of Christmas on public property in places where the government allows for displays to be erected by private groups.
As your church celebrates the Christmas season this year, there is no reason to be intimidated by secularist groups bent on removing Christianity from Christmas.  The Constitution does not require such a radical removal of faith from public view.
Alliance Defending Freedom is here to help, and we urge you to take advantage of our Christmas resource.  And if you become aware of attempts to remove religious Christmas displays from public view, contact us so we can help restore sanity to Christmas celebrations.
Standing together we can "go tell it on the mountain that Jesus Christ is born!"