Obama's narcissism, callousness, and disregard (and dare we say hatred) for America reach new lows. While unemployment rises, inflation jumps, the stock market disintegrates, more layoffs announced, the dollar's value crashes, the economy heading towards another Recession, with 45.8 Million Americans on food stamps, and tens of millions more suffering and struggling to survive, his majesty Emperor Obama and his entourage runs off to yet another luxurious vacation in Martha's Vineyard, playground for the rich and famous.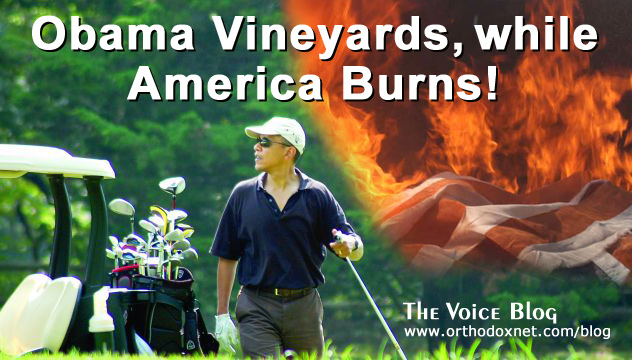 From the Boston Herald:
While the stock market took another nosedive on repeat recession fears yesterday, President Obama landed on Martha's Vineyard for 10 days of fun in the sun, hitting the summer playground of the rich and famous during worsening economic turmoil.

Air Force One touched down at Otis Air National Guard Base at about 6 p.m. last night, an hour behind schedule. The president boarded Marine One helicopter for the short hop to the Vineyard, then traveled by motorcade to Blue Heron Farm, his 28-acre hideaway on Tisbury Great Pond. First lady Michelle Obama and kids Sasha and Malia reportedly arrived on the island separately earlier in the day.
From Mail Online from the UK:
Michelle and Barack take his-and-hers jets for separate 500 mile hops to Martha's Vineyard vacation – just hours apart

The President will be staying with his family at the Blue Heron Farm, a sprawling, $50,000-per-week estate with plenty of room for staff and Secret Service agents accompanying him on the trip. The family are to spend 10 days in a rented compound.
…

President Barack Obama's much-maligned holiday vacation turned into an even bigger PR nightmare today as it emerged that he and his wife took separate government jets to Martha's Vineyard just hours apart. Michelle Obama was revealed to have arrived at the Massachusetts retreat, only 500 miles from Washington, four hours before her husband yesterday.

The extra transport will have cost taxpayers thousands in additional expenses to get her a few hours more vacation time.

…

The President had already drawn scorn for using two helicopters and Air Force One to get to Martha's Vineyard. He yesterday left the White House aboard Marine One on his way to Andrews Air Force base to hitch a lift aboard Air Force One – along with First Dog Bo.

After landing at Cape Cod Coast Guard Air Station, he then took a final helicopter to his holiday destination to complete the remarkable 500-mile journey.
From American Thinker:
If the President is right on schedule with his plan to uproot America from its founding principles, why not pile the wife and kids into Air Force One and enjoy a little down time? In two and a half short years he has proven his allegiance not to our flag and the prayerful "God Bless America" but to his pastor Reverend Wright's admonition, "G.d..n America." Obama's been a regular workaholic advancing Wright's anti-American creed.

He encourages class warfare, lectures the public on everything from civility to racism to bullying, blames Bush, Congress, the Tea Party, Republicans and Sarah Palin, spends billions on Michelle's nanny state projects, promotes one failed policy after another, gives more speeches and interviews that his 2 predecessors combined, and trashes the best economic system in the world. Whew! talk about a workload. – M. Catharine Evans
From WorldNetDaily:
As he and his daughters bicycle around the summer playground of the Northeastern elite, Martha's Vineyard, President Obama is steadily bleeding away both the support of the nation and that of his most loyal constituency.

Several times, his approval rating in Gallup's daily tracking poll has sunk to 39 percent, with disapproval reaching 54 percent. Support for his handling of the economy has dipped to the mid-20s. Only 11 percent of Americans, says Gallup, are satisfied with the way things are going.

Unemployment remains at 9 percent, as it has for two years. The Dow has lately lost 2,000 points, or $3 trillion in wealth wiped out. All that money the Fed pumped out is now being reflected not only in the price of gold, silver and Swiss francs, but in rising consumer prices – inflation. One in five U.S. children is living in poverty. – Pat Buchanan